"Salidarnasc" – Five years together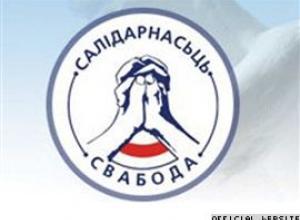 The Committee for Defense of the Repressed "Salidarnasc" was founded five years ago on the wave of expulsions from universities and layoffs of those most active in Alyaksandar Milinkevich's and Alyaksandar Kazulin's electoral campaigns. Unfortunately, today the Committee's work is still relevant and needed. For five years the staff of "Salidarnasc" has been providing all possible help to people who face various political persecutions in Belarus. Hundreds of people turned for help to the Committee. They came for legal assistance, those who suffered from illegal actions by police and its special units sometimes required medical help, moral, psychological and other. Among the most successful programs by the Committee is Kastus Kalinouski's educational program at Polish universities that targets the repressed Belarusian students. It gives a chance to gifted students who were expelled from Belarusian universities for political, not academic reasons to continue their education, fulfill themselves as persons and stay useful for their Motherland.
Ales Trubkin (Navapolatsk):
"Having participated in Alyaksandar Milinkevich's campaign in 2006, I lost my job as an electrician at the Novapolatsk House of Culture. When I turned to "Salidarnas", they offered me an opportunity to study. Having no opportunity, for obvious reasons, to have a permanent job and simultaneously to study at home, I decided to go to Poland. Now I am graduating from a master's program in Bialystok University. I plan to return to Belarus and native Navapolatsk upon graduation. I am not even afraid of a visit to the army enlistment office."

Ivan Shyla (Salihorsk):
"I asked for assistance still in 2008, right after I was expelled from high school. I was looking for an opportunity for distance learning, but unfortunately, there was none. When I was in the army, my parents were dealing with this issue. My brother and I did not encounter any problems with continuing our education. We have been studying Polish since September and started our studies from October. I am happy to study at the legal department at the University of Silesia in Katowice. I don't know yet what to do after graduation.

Siarzhuk Huminski (Vorsha):
"After I had been expelled from college and a criminal investigation was started against me, I turned for help to "Salidarnasc." They responded to my request immediately. Moreover, whenever I come to the "Salidarnasc" office, their staff is always very helpful and glad to see me, just like anybody else. After I arrived in Poland the most difficult was not to lose my head over all the opportunities of a free country. Now I live and study Sociology in Gdansk. I hope to return to Belarus and apply the acquired knowledge. "

Marta Mayseenka (Mensk):
"Despite academic excellence, I encountered misunderstanding and threats from the administration of the Minsk Radio Technological College due to my active civic position. That's when I came for advice and assistance to "Salidarnasc." Despite difficulties with the visa process, I enrolled to the Kaliouski program. Now I am in the second semester of veterinary medicine. I like it a lot. Nice people, good professors, great equipment. All calm and quiet and I even miss a bit the crazy years before the departure. It's difficult to study, but once there is a strong will, it's possible. After studies I want to start my own clinic and a shelter in Minsk vicinity. I would like to carry on with my civic activities. I hope that it will happen. Though there are still five years of studies, so it's difficult to guess. As you know, the situation may change.
Despite the anniversary, the occasion is rather sad, as the ungrounded repressions continue in Belarus, alongside with persecution of the political opponents. The need for such organizations is still there and especially after the December elections and the April accident in the metro. We hope that through "Salidarnasc" work and despite the current situation in the Belarusian society, Belarusians will manage to become a united people and live these difficult years in dignity to become free. As the Polish people who are assisting the Belarusian students say, "From Solidarity – to Freedom!" We hope that we will manage to walk this challenging path and celebrate the tenth anniversary in other, happier circumstances.
0 Comments