35th Anniversary Of The Moscow Helsinki's Group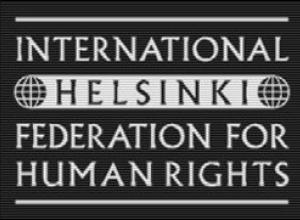 Famous human rights defenders from Belarus, Poland, Russia, Ukraine, Moldova, Georgia, Turkmenistan and many others came to Moscow to participate in the International Forum of Human Rights Defenders in Eurasia dedicated to the 35th anniversary of the Moscow Helsinki's group work. The Forum took place from 11 to 13 May. A lawyer of the Committee for Defense of the Repressed "Solidarity" also participated in the Forum.
The Belarusian theme was especially acute at the meeting. A separate plenary session was held on the situation in Belarus with participation of Aleh Hulak (Belarusian Helsinki Committee), Ales Byaliacki (human rights defenders center "Viasna", Andrei Bastunec (Belarusian Association of Journalists) and also a representative of the Moscow Helsinki group, Head of the International Observation Mission of the Committee on International Control over the Situation with Human Rights in Belarus Andrey Yurov.

The discussions were mainly on the situation in Belarus after the presidential elections, more specifically about the threat to the independent media, civil society, human rights defenders organizations and the lawyers. Various mechanisms for international reaction to ensure the release of the political prisoners were also discussed. Events in Belarus were topic of a press conference.

Such human rights defenders as Yury Jibladze, Valentin Gefter, Dmitri Makarov and others expressed their interest in working on Belarusian issues. Among others were discussed possible forms and programs for strengthening cooperation of the independent human rights organizations of the former Soviet Union.
The situation with human rights in Central Asia was discussed on the same day. More talks took place on the situation in the Eastern Partnership countries. Country representatives told about Ukraine, Moldova and Southern Caucasus.
padding:0cm 0cm 1.0pt 0cm">

0cm;">The second day of the Coference was dedicated to the global challenges in the area of human rights in the OSCE region. Danuta Przywara from the Polish Helsinki Committee on Human Rigths presented a plenary report on "Civic action as a tool for human rights defence."

0cm;">Some of the discussions were dedicated to the 35th anniversary of the Helsinki movement. Adam Michnik, the editor – in – chief of Gazeta Wyborcza, Yury Orlov , the founder of the Moscow Helsinki group, Ferenc Kosics from the Hungarian Helsinki Committee and others made their presentations. The head of the Moscow Helsinki group Liudmila Alexeeva took part in a sum up of the results and adopting a resolution of the Forum.
0 Comments