PROGRAM STYPENDIALNY IM. KONSTANTEGO KALINOWSKIEGO - 6 YEARS IN ACTION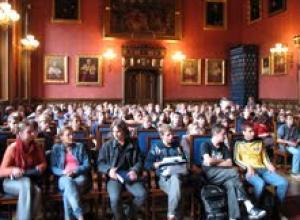 An Alumni meeting dedicated to the 6'th anniversary of the Kastus Kalinouski Scholarship Program was held in Warsaw on March 30, 2012.
The Scholarship Program was launched on March 30, 2006, by signatures of Kazimirz Marcinkiewicz, Head of the Polish Council of Ministers, and Aliaksandr Milinkievich in the aftermath of events in the camp town at the main Ploshcha (Square) in Minsk when dozens of students were expelled from Belarusian educational institutions.

Young people who went through administrative arrests, imprisonment, expulsion from educational institutions in Belarus, as well as children of the repressed democratic activists have been annually enrolled into Polish universities for education since 2006.

Aliaksandr Milinkievich, Leader of the "Movement 'For Freedom'", sent a letter of gratitude to Donald Tusk, Poland's Prime-Minister, acknowledging the chance given by the Program to young Belarusians in continuing their education in Poland and assistance provided to young Belarusians and generally to the democratic movement in Belarus.

"The Alumni meeting was conducted in the very same hall where the Scholarship Program was initially signed in 2006. Kazimirz Marcinkiewicz who was present at the meeting called this event a gift from the heart of the Polish people", said Ina Kuley, Chairperson of Committee "Salidarnasc". – Participants reminisced of the exciting moments in 2006 when people in camp town at the main Ploshcha (Square) in Minsk had known that dozens of students were soon to be expelled from Belarusian universities.

Aliaksandr Milinkievich called upon assistance to the youth. Polish colleagues were the first ones to respond and the idea of the new program was worked on even during nighttime. On March 26 it was clear that the new Scholarship program would be launched.

When talking about results of 6 years of work, Kazimirz Marcinkiewicz called the Kastus Kalinouski Scholarship Program consistent and needed. He underlined that good education opens up the entire world for young Belarusians.


color:#5E6568;">Formal part of the meeting continued into a warm evening of memories with photos.

Alumni and their parents expressed cordial gratitude to Jan Malicki, Head of the Scholarship Program, a prominent Polish historian and public activist. Many of the scholars mentioned good attitude towards them from the side of Polish professors and administration of Polish universities.
yellow;">Monika Rzeczycka, Pro-Rector of Gdansk University, was particularly described as a person who gives authentic care to Belarusian students.

Out of scholars who have been enrolled into the Scholarship Program, 56 persons successfully received Master's degrees, 1 person qualified to a Doctoral degree. 58 persons are expected to receive a Master's degree in 2012. Other 150 persons study at a Bachelor level.

The Scholarship Program involves 57 higher education facilities in Poland. Most students study in Universities of Warsaw, Bialystok, Gdansk and Poznan. Other universities are also of prestige.

International Relations, Political Sciences, IT, Economy, Tourism, Philology, Pedagogics are traditionally the most popular majors Belarusian students choose. The rare specialties chosen are Molecular Biology, Theory of Music, Sound Production, Methods of Teaching the Blind. Several persons have qualified for Medical Doctors.

A yearly Course of Polish Language is presupposed in Lodz for underage scholars.
The Scholarship Program in 2011 granted opportunities to academics and professors who were dismissed from their working place to exercise their academic rights. Nina Stuzhynskaya, Piotr Mihurski, Valery Siadou and others managed to continue their research upon the subject areas of their interest and write books.

Kastus Kalinouski Scholarship Program will continue its work this year. Committee "Salidarnasc" will collect applications in May-June.


Expelled students from Minks State Linguistic University and Belarusian State Pedagogic University have already filed their application for the Scholarship Program in 2012-2013.
0 Comments