Salidarnasts launches Week of Political Prisoner campaign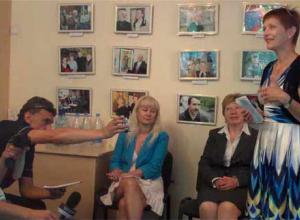 The Committee for the Protection of the Repressed Salidarnasts launched today an information campaign of solidarity with political prisoners in Belarus under the name Week of Political Prisoner.
As reported in the press conference by the chairperson of the Committee, Inna Kulei, "people who found themselves behind bars for their beliefs require our daily attention and support. This is a marathon to tell about every political prisoner in great detail in order to find the right chord, the right note that will be of interest to everyone who can read websites, newspapers, or hear, contribute to the fate of political prisoners and feel the need to write to them the words of support. Therefore, each week will be devoted to one of the political prisoners and the marathon will start with the presidential candidate Mikalai Statkevich, who is serving a prison sentence in Mahiliou."
The campaign activities include the production of cards with the words "Freedom is for the Free" that will be sent to the places of imprisonment of the 11 political prisoners. It is also planned to arrange actions, meetings and other events. An informal meeting with the families of the prisoners will take place every Friday.
During the week, the website http://www.salidarnasc.org/ will post a story about each political prisoner under the general section of "Five Reasons to Learn More about the Political Prisoner" to cover the lives, biographies, evidence by associates, the words of support from Belarusian and foreign public figures, and, most importantly, a reminder of the need for correspondence with the prisoners.
The press conference was attended by the wife of political prisoner Mikalai Statkevich, Mrs. Maryna Adamovich, who told about her husband's latest phone call, shared her views on the recent developments in the society. She stressed that solidarity was very much needed, although Statkevich is a very courageous man: in 2012, there was a time when not a single letter reached him, and he did not commit any messages. He endured this situation, but still such actions are needed both for him and all the other political prisoners.
The solidarity campaign "Week of Political Prisoner" is expected to be completed before the end of the period of detention of political prisoner Dzmitry Dashkevich, which is due at the end of this summer.

0 Comments