Yauhen Skrabutan submitted a letter to the Minister of Education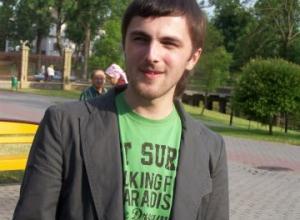 Yauhen Skrabutan, a Kalinouski program grantee, submitted a letter to the Minister of Education, in response to Machkevich's media statements that students are not expelled on political grounds in Belarus. Yauhen Skrabutan reminded the official about the story of his expulsion.
Maskevich who is currently the Minister of Education was the rector of Hrodna State University of Yanka Kupala, when Yauhen studied in Hrodna. Back then on the eve of the 2006 elections Yauhen was actively involved in the united candidate Milinkevich's electoral campaign. In January of the same year he served administrative term at the Akrescina detention center and as a result was expelled from his studies regardless of his academic excellence and passed exams.
"I think you remember how Prorector Badziukova made sure that I would not be a Hrodna State University student anymore and it can be confirmed by almost any professor at the Belarusian Philology department," addresses the Minister Skrabutan.

Before the 2006 presidential elections, the University staff started strictly checking attendance. The administrative staff did not conceal that they were only interested in Yauhen Skrabutan's absence, as his attendance so far complied with the administrative policies for him not to be expelled on legal grounds.
None of the lists with the names of those who systematically missed classes had Yauhen's name on it. Yauhen did not have any warnings from the faculty on his attendance. The formal reason for his expulsion became the administrative offence, as on January 12 he was detained by the police while distributing calendars with "I love Belarus" inscription.

Despite all barriers by the Rectorate, such as pressure on the faculty, an attempt not to admit him to the exams, Yauhen passed his winter semester exams in time. However, by the order of the Rector Maskevich no.12 of 17.02.2006 Yauhen was expelled from the Philology department.
His numerous appeals to the University and the Ministry of Education were not considered and Yauhen received a reply that he was expelled due to a systematic violation of internal policies.
padding:0cm 0cm 1.0pt 0cm">
0cm;">With the help of the Committee for the Repressed "Solidarity" Yauhen enrolled in the Warsaw University as a Kalinouski program grantee and graduated from the University in 2009 with a diploma of a philologist.
0 Comments