"Low cost" education can not be qualitative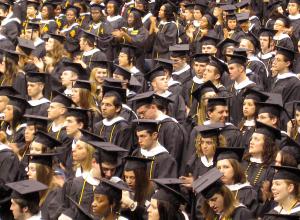 BISS organized the first presentation on the results of the research project "Human funds in Belarus: a source of competitiveness and modernization."

The roundtable, which was held on February 15, presented two research papers written by the project organisators: "The Belarusian higher education in international term" (Vladimir Dunayev, Public Bologna Committee) and "Returning to the education and evaluation of human funds in Belarus" (Alexander Chubrik, Gleb Shimanovich, IYP).

The purpose of this research was based on benchmarks and indicators to assess the quality of the Belarusian education system and, therefore, to assess the quality of human funds, which are restored by national schools and universities.

Professor Vladimir Dunayev mentioned in his speech that the number of people with higher education in Belarus increased, as in other countries of the Organization for Economic Cooperation and Development (OECD). "However, we can not say about improving the quality of studies, and therefore the quality of human funds,"- he said.

Now the situation is fixed. Belarus is on the 26th place in the ranking of educated people, but the same time it takes only 84 th place place in the ranking among countries, where economic growth is increasing due to the development through an effective system of education.

Our country with a great number of educated people can not catch up Botswana in terms of GDP.

Why is this happening?

In recent decades, the budgetary support for education has decreased by 20% and is now 15% of GDP per student, while - 42% in OECD countries.

In article 53 of the Education Act, in force until September 2011, allocation for education of at least 10% of GDP had been prescribed. But the present government funding never reached that sum. And in the last period, it was even half of that. It is clear that "low-cost" education can not be really qualified.

State seeks to shift the financial burden on the population itself. Today, more than two-thirds of college students pay for their education in Belarus by themselves.

Another indicator of the quality of education lies in its international appeal.

Official figures indicate a growth in the area by the growth of the number of foreign students. However, the first place among the foreigners take ... Turkmen, followed by Russians, Chinese and Iranians.

- Belarusian higher education have even more to lose by the turkmen internationalization, - Vladimir Dunayev concluded.

However, the number of students seeking to leave the country and study in Europe increasing every year. Ministry of Education holds back real numbers, but there are more than 30,000 Belarusians studying outside Belarus today. (UNESCO calculations)

That fact demonstrates the decline in prestige of the Belarusian higher education within the country.
0 Comments